Current

Lee Colby Wilson became Conductor and Artisitic Director of the CCCC in 2007 bringing a remarkable wealth of knowledge and experience to the group.  She has a distinguished career as both a concert pianist and a music educator.  Lee is the former Director of Arts and Culture at the Winnacunnet High School in New Hampshire and prior to that had been Chair of the music department at the Cambridge School in Weston, MA.  Her spirit and joy for music are infectious and have inspired the singers in the chorus.

Marilyn Cook joins the CCCC for her second season as accompanist to the group. Marilyn graduated from Northwestern University School of Music in 1972 as a flute student of Walfrid Kujala of the Chicago Symphony. Since that time she has worked professionally with Lee Wilson in various performances in the New England area. For several years Marilyn has worked with us in performance as a professional flutist. We are pleased that this year she brings us her lengthy experience as a choral accompanist and director.

Past

David Morochnick founded the CCCC in the spring of 1997 and conducted the Chorus for its first decade. 

Florence Flossie Dunn was accomapnist for the CCCC for ten years. The chorus benefitted greatly from her experience is truly greatful for all she contributed to the advancement of our musicianship.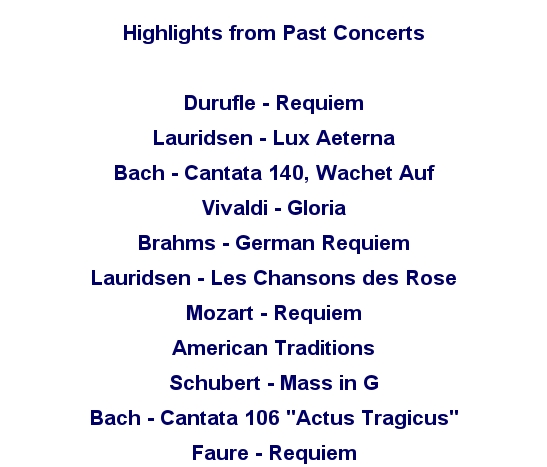 Music is still a human experience, and to that end the Coolidge Corner Community Chorus welcomes all who wish to sing, regardless of experience or training.  We sing music from all periods, sacred and secular; we perform masterworks as well as little known but greatly loved ancient and contemporary compositions.  As one of Bach's major biographers wrote, referring to Bach's choral works, "in the end, these pieces are best performed by amateurs, for it is they who have the heart for it."  It is the "heart for it" that informs our repertoire choices, our rehearsal practices, our performances.  It is our deep belief that musical excellence is not only possible, but essential to those who enter into the experience of great music with belief and trust in self and each other.

                                                   - Lee Colby Wilson, Choral Director

Collettivo, our chamber group, offers experienced members of the chorus an additional opportunity to explore the musical repertoire.Open to all singers in the CCCC.

2001 Recipient of the Brookline PAX award for Outstanding Community Involvement.

Our DVD, Singing in the Roses, was selected to be in the juried exhibition, Art from the Minot Rose Garden, at the Brookline Art Center in February-March, 2009.

Our group looks to be active participants in enriching the community around us. We give several performances at local senior senior housing, nursing homes, and community events such as First Light.  

The Chorus has collaborated with a number of local organizations including the Brookline Historical Society, Brookline School System's All-Town Chorus, Friends of the Minot Rose Garden, Brookline Public Library, and the Brookline Community Mental Health Center.

We are actively raising money to benefit those in the area including the Devo Scholars- a group that has already provided private music lessons to over 100 children unable to afford them.

CCCC community involvement goes beyond singing: Our team won the 2009 Brookline Education Foundation Spelling Bee by correctly spelling phrontistery.

Coolidge Corner Community Chorus

Check out this story, Promoting the Arts in Brookline on Mass Realty, one of the top sites for Real Estate in Massachusetts, including Brookline, MA Real Estate.